The Settlement Hotel Melaka
Address :
No. 63, Jalan Ujong Pasir, World UNESCO Heritage City Melaka, 75050 Malacca, Malaysia
Star Ratings :

View More Hotel in :
Malacca
The Settlement Hotel Melaka Overview
Situated at a point of strategic importance, Melaka boomed into a prosperous international trading port for spices, porcelain, tea and silk – luring Chinese, Javanese, Indian and Arab merchants. As Malacca's fame and wealth grew, it soon fell under the covetous eyes of emerging European powers, and was colonised by the Portuguese, Dutch and British. The imprints of all the different influences are still visible in the architecture, heritage buildings and colonial structures we see in Melaka.
The Settlement Hotel Melaka seeks to capture and preserve Melaka's illustrious history, and to weave our guests through an evolution of cultures and hospitality. After two years of fervent restoration, the once tired-looking 1960's 4-storey government building located at the fringe of the Portuguese Settlement along Jalan Ujong Pasir, World UNESCO Heritage City Melaka, has now come alive in the form of an intimate boutique hotel that showcases the unique intertwined cultures and the rich heritage of Melaka.
The Settlement Hotel Melaka Location & Nearby Attraction

Enlarge The Settlement Hotel Melaka Location Map
How to get here?
The Settlement Hotel Melaka is only a stone's throw away from some of the most well-known hotspots in town. Download our specially prepared tourist map and let the exploring begin!
The Settlement Hotel Melaka Room & Accommodations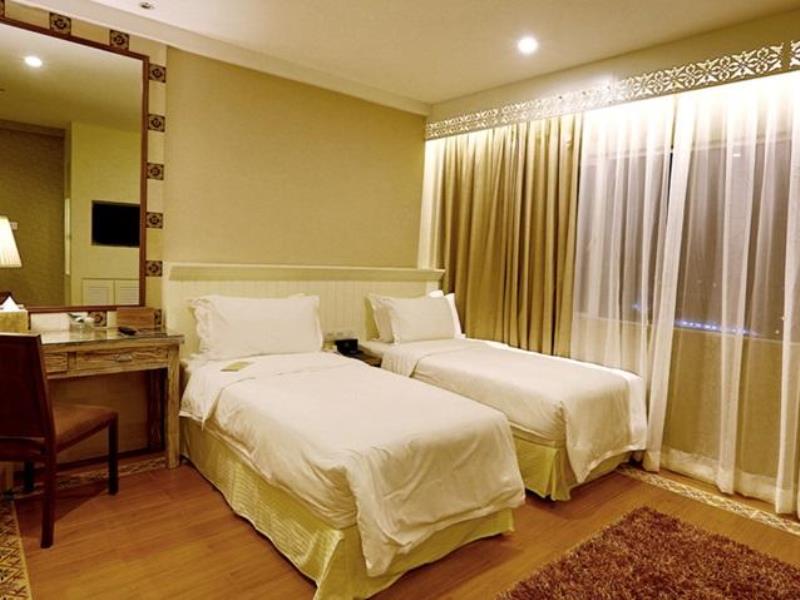 Deluxe

Junior Suite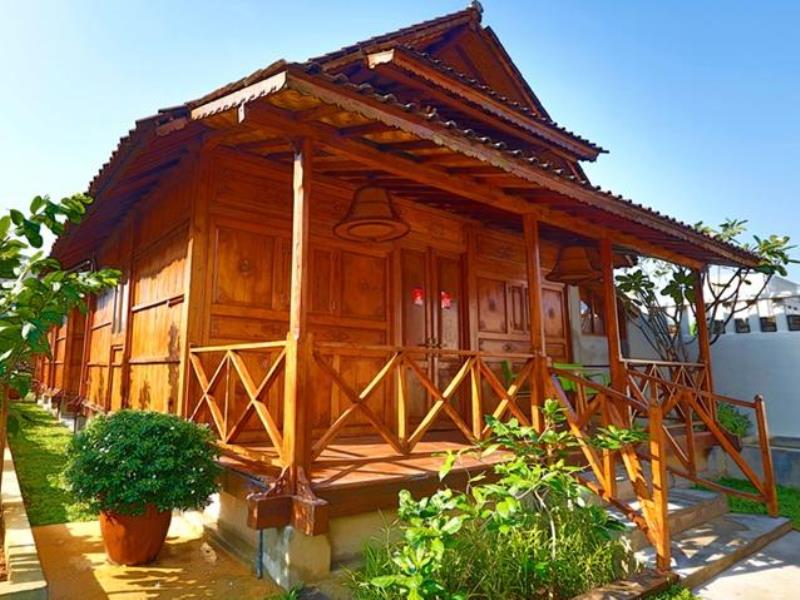 Luxury Villa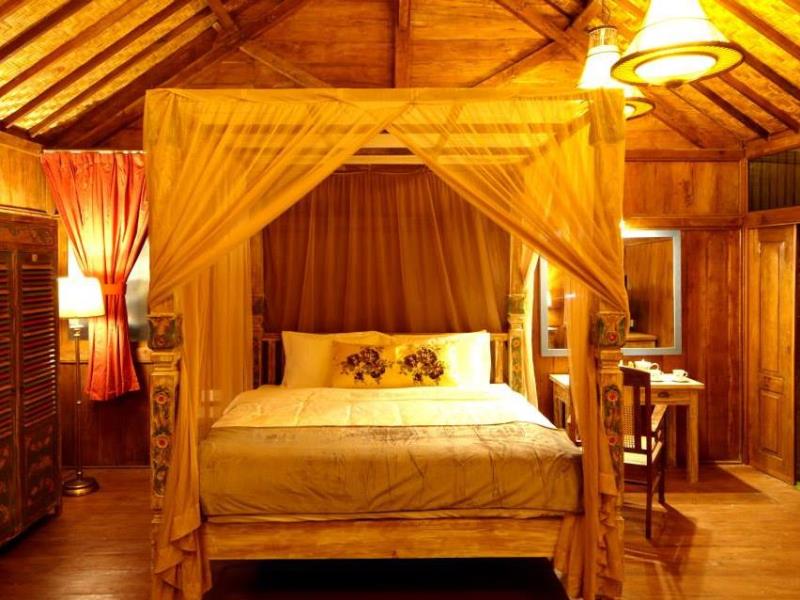 Luxury Villa
The Residences offers three different room types:
3 Settlement Suites, one on each floor
6 Junior Suites, two on each floor
36 Deluxe Room, twelve on each floor
​Each room type has been furnished with individual care and attention, tastefully decorated and designed to cater to your comfort. From the all-natural stones or designer tiles, to the soft ambient lighting, to the art pieces and decorative items, The Settlement Hotel fuses traditional charm and diverse artistry with contemporary luxuries.
For those with a quest for adventure or for honeymooners who want to experience living in a traditional Malay home, the Villas gives our guests the opportunity to experience Malaysia's rich heritage while living in comfort. The three Malay-style Villas comprising one Junior Villa and three Luxury Villas, are set against a backdrop of faraway paddy fields, nearby railway sleeper steps and wooden flowerbeds filled with pretty hydrangeas.
Each guest room is equipped with the following features and amenities:
Free in-room high-speed Internet access
Individually-controlled air-conditioning for the Villas and central air-conditioning for the Residences
LCD TV with cable/ satellite channels
Featherbeds, feather duvets and down pillows
In-room safe
Bathtub with separate tub and shower, and cold/hot water services
Bathrobes
Complimentary bathroom amenities
Fully stocked minibar
Complimentary tea/ coffee making facilities
Iron and ironing board
Hairdryer
Complimentary morning newspaper
Special arrangement for butler and driver services
Guests can also contact our Hotel Ambassadors for more information on the following services:
Daily free shuttle service to Jonker Street and the Portuguese Settlement.
Sight-Seeing Arrangements for tourists.
Personal butler and driver services, if required.
The Settlement Hotel Melaka Facilities & Services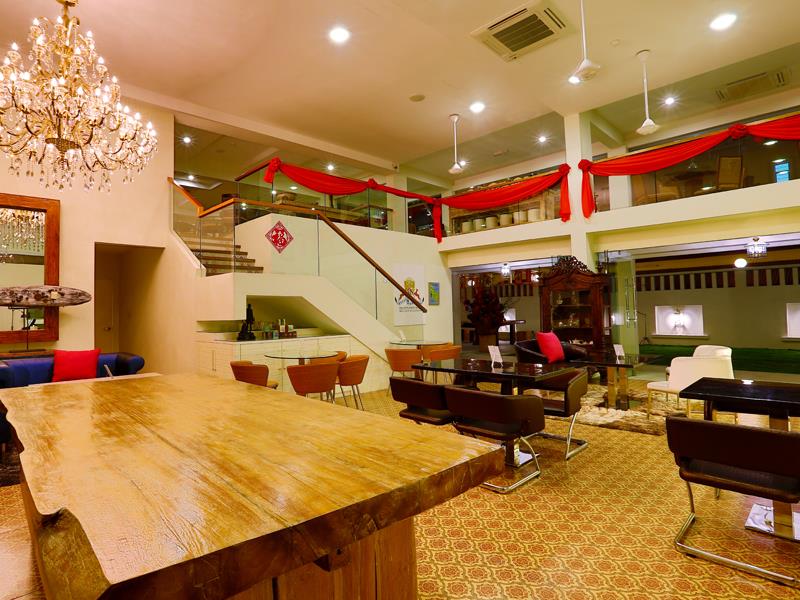 Lobby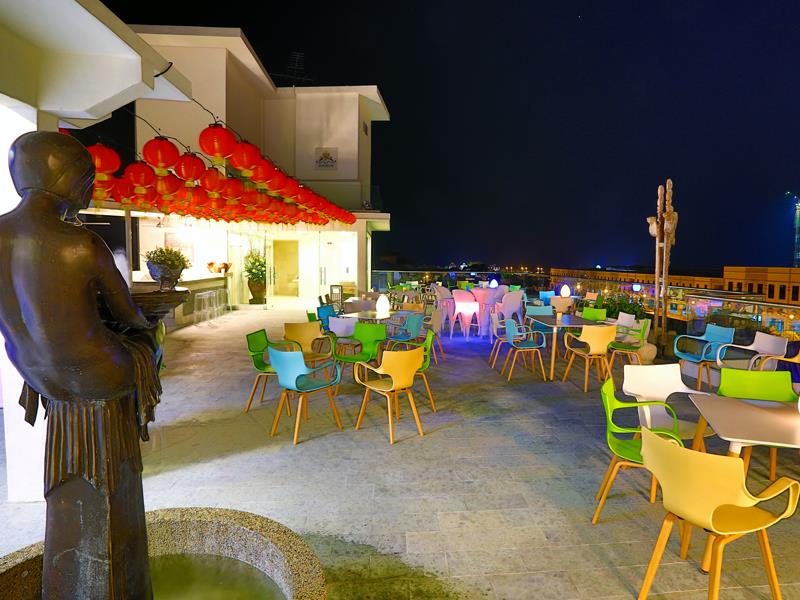 Rooftop Garden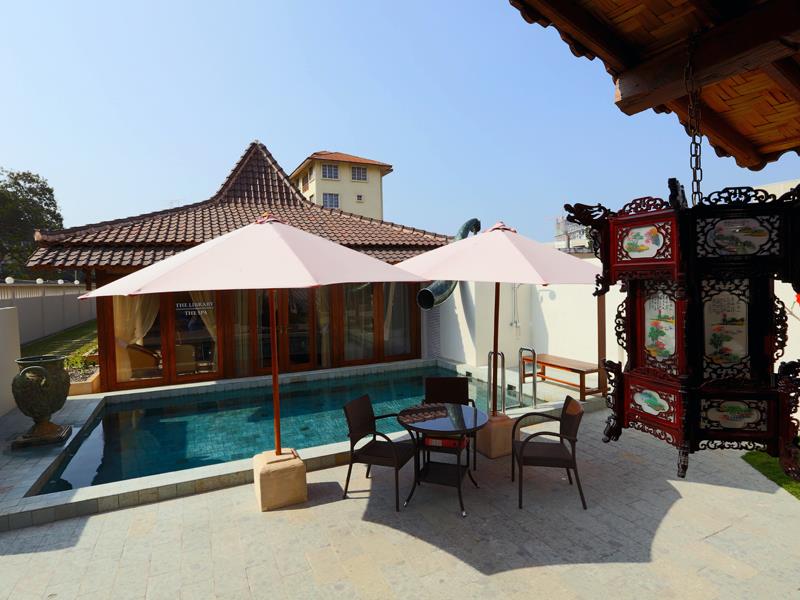 Spa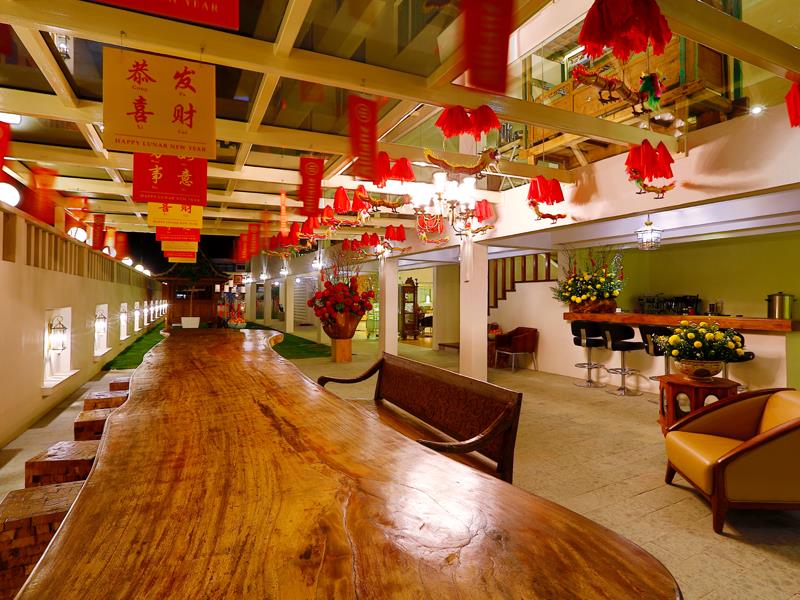 Long Table Bar
ROOF TOP GARDEN
The Rooftop Garden presents raw Borneo ethnic charm while providing a bird's eye view of the surrounding neighbourhood. With a hanging "balcony" for musicians, bands or artistes to entertain guests, this little refreshing hideaway is ideal for intimate private functions and parties, or for a delightful alfresco dining experience.

THE DINNING ROOM
Indulge in a delightful culinary experience with various tastes and flavours to inspire your palate in The Dining Room. From local delights to Peranakan/ Nyonya cuisine, Chinese, Indian, Portugese, Western and even exotic Middle Eastern, let our resident chefs whip something to excite your senses!
To spice up special occasions, celebrity chefs are invited to work with us to create a gastronomic adventure to remember.
THE LONG TABLE BAR
The perfect place to unwind and relax, The Long Table Bar which is located outside near the pergola in the garden terrace, allows guests to bask in the natural surroundings filled with the sweet scent of the kesidang (Malacca's state flower) while enjoying a round of drinks or a casual conversation with friends.
The 27-foot long wooden table, said to be the longest table in Malaysia carved from a single tree trunk, will certainly be a conversation piece itself!
TRADITIONAL SPA VILLAGE & POOL
Tucked away amidst the Malay-style Villas, The Settlement Spa Village offers a comprehensive menu of traditional massages, body wraps and scrubs, facial therapies, nail care services and many other signature treatments that will leave you feeling relaxed and refreshed. Indulge yourself in a rejuvenating and nourishing experience for the mind, body and soul!
The swimming pool is conveniently located next to The Spa for those who crave a quick dip in the pool or a relaxing swim.
Important Notes of The Settlement Hotel Melaka:
Check - In Time : 14.00 p.m
Check - Out Time : 12.00 p.m
The images shown are for guidance purposes only. You may stay in a room which is different from the examples shown.
Add Hotel to online bookmark :